Instant Profile Updates
Never wait for Linkshell Community updates again. The plugin will update your Guildwork and FFXIAH profilesin real-time. It also updates your relics, mythics, empyreans and synergy.
Shouts
Premium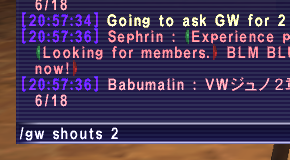 Tired of sitting in town to monitor shouts? Have shouts streamed to you in real-time in any zone.
Remote Chat (Mobile)
Premium
Take remote chat to the next level using Guildwork XMPP. Talk through your character using yourfavorite IM client on your smart phone!
AH Notifications
Premium
Receive instant notifications when your items sell or when an item you want is in stock.