Instant Profile Updates
Never wait for Lodestone updates again. The plugin will update your Guildwork profile in real-time.
Shouts
Tired of sitting in town to monitor shouts? Have shouts streamed to you in real-time in any zone.
In-game Notifications (Hunts, Lights, Fates, and Weather)
Whenever a Hunt spawns, FATE spawns, a Duty gets a Nexus Light bonus, or weather changes. Guildwork Client prints it in the chat log. Never miss an in-game event again.
Hunt Push Notifications
Premium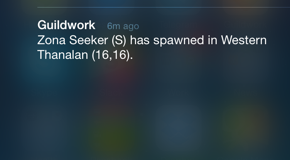 Tired of setting on TeamSpeak for hunts? Guildwork will send and in-game message and a push notification to your iOS or Android device the moment a Hunt spawns.
Remote Chat
Premium
Ever wish you could chat with your friends who are in-game when you're away from the game? With Guildwork's web interface, you can chat anytime.